IMF projects FBR's revenue to surge to Rs0.5 trillion by 2023-24.
FBR has issued a S.R.O. 657(I)/2019 dated June 20, 2019 on the subject of Panel for Alternate Dispute Resolution Committees for 8 cities.
Another Circular (No. 07 of 2019) has been issued whereby the Amnesty filers have finally been allowed extension upto August 02, 2019 whether they are Individual AOPs or Companies, to file their revised returns. This is in addition to the extension of return filing date which has been extended for all individuals AOPs & Companies as well.
FBR refutes levying withholding tax on motorcycles, rickshaws.
KTBA urges FBR to accept first biannual WHT statement for 4 months
FBR has decided to issues notices to at least 100,000 non-filers who own a house larger than have hundred square yards or a vehicle over 1,000 cc.
As per FBR's statistics, the total number of people who submitted their tax returns rose by 700,000 to a total of 2.154 million. Of these, some 700,000 are salaried people.
About Us
On 12th July, 1956, the stalwarts like Mr. Ismail D. Lambat, Mr. H. Shaban, Mirza Adam Khan G, Mr. Ismail Bhimani, Mr. Shaukat Ali Syed, Mr. Ghufran Ahmed, Mr. Masud Ahmed Abbasi, Mr. Mubin Haq Siddiqui, Mr. Y.S. Shaikh and Mr. Silar Shah, founded Income Tax Practitioners' Association with the object to provide a platform to the tax consultants...
Objectives
Our objectives is to study problems of Accountancy, Audit, and Commercial and Laws affecting Taxation and to keep a close watch on the practical working of the income Tax and other taxation laws. We also look after, safeguard and protect the rights and privileges of the members of the Association.
By Laws
The introduction of By Law of the Association is to keep a close watch on the practical working of the income Tax and other taxation laws.To establish promote and maintain high standards of honesty, efficiency and integrity among the members of the Association in the conduct of profession so as to enhance the status, dignity, prestige and honour of the profession.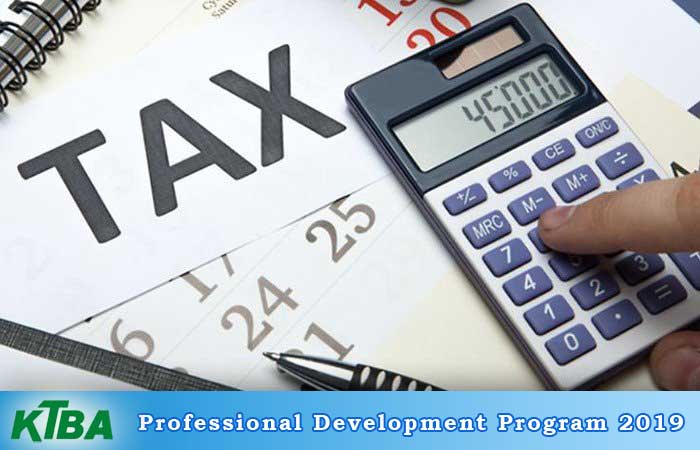 KTBA is pleased to launch
Professional Development Program
"Basic PDP 2019"
The Program Brochure is attached
for information and details.